Problems viewing the newsletter? View online version here.
You can always get the latest news and offers,
when you follow us on these social media channels:
Is your BMW locked in park? How to get it into neutral!
Many are unfortunate to find that their BMW with automatic transmission locks in park when the battery dies. This is super inconvenient if you have to load it onto a truck to take it to the workshop, or otherwise want to push the car around.

We at Schmiedmann have the solution!
We've made 3 short videos on how to unlock the automatic gearbox, so you can go from park to neutral and move your car.

How to get a BMW E61/E61 with automatic gearbox into neutral from park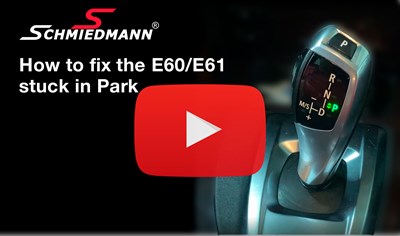 How to get a BMW F20 with Xdrive and automatic gearbox into neutral from park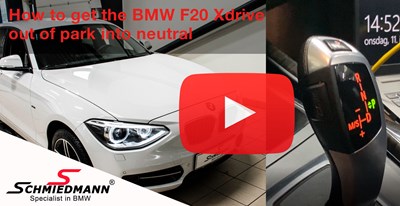 How to get an F-series or E70, E71, E84 and E89 in neutral from park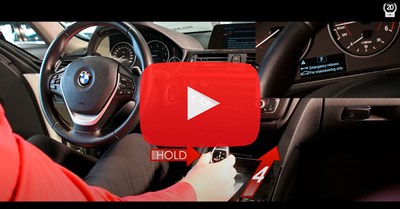 Watch the 3 videos on our Youtube channel and follow along for even more cool, useful videos.
Schmiedmann Sweden builds wild BMW G82 M4
Schmiedmann Sweden is busy rebuilding their BMW G82 M4.
The latest addition is one of the wildest things we've seen from Supersprint to date.
A complete exhaust system for track use!
The Supersprint exhaust is built with the following features:
Catless downpipes
Front pipes with OPF-delete
X-pipe without resonator
Race-silencer

See the pictures of the nice exhaust on the amazing G82 M4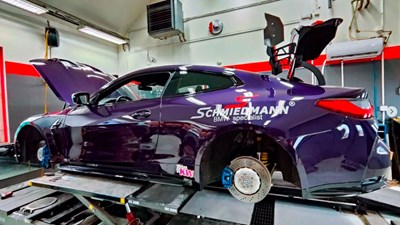 Schmiedmann can supply everything from Italian Supersprint to BMW and MINI.
Visit Supersprint on their website supersprint.com
Please contact Schmiedmann for a non-binding offer.
SCHMIEDMANN ODENSE
Tel: +45 65 94 15 45
E-mail:odense@schmiedmann.com
SCHMIEDMANN NORDBORG
E-mail:nordborg@schmiedmann.com
Schmiedmann also helps you with electric or hybrid BMW/MINI
Schmiedmann Odense had a customer come by in his electric BMW i3.
The task was that it should be checked for defects before inspection.
This was handled well by our excellent workshop team: thoroughly and correctly.
The Schmiedmann workshops therefore take care of all BMWs and MINIs, regardless of whether they are internal combustion engines or electric cars.
Even BMW motorcycles are welcome in our workshops.

Watch the video of the smart BMW i3 here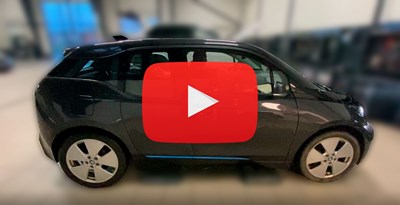 Schmiedmann has workshops in Denmark, Sweden, the Czech Republic and Finland. 
Remember!
When you visit the workshop in Odense you will have access to:
-The lowest hourly rate in Denmark at a BMW & MINI specialist workshop.
-The lowest price on spare parts, with price guarantee.
-Lovely customer lounge with free coffee, cocoa, water and TV with Netflix.
-Customer office with WiFi, PC and printer for free use.
-Own laundry room. Get a large sink with foam polishing for only 59dkk. Our car wash has foam brushes that won't scratch your paint.
And remember:
We also service and repair your BMW Motorcycle.
The dangers of using an unoriginal tester
A customer in Odense came with his BMW F20 LCI that would not start and was "completely dead" as the customer said.

The customer described to our workshop team that he had tried coding mirrors that fold in when parking.
Coding was attempted with an unoriginal tester. This had, as it sometimes does, resulted in the footwell module collapsing.
Our workshop team, in collaboration with Bimmerupgrade.dk to reset the footwell module and to reset and upgrade the car's software to the latest version.
This saved not only a module, but also the customer from a huge bill for new parts, assembly and more.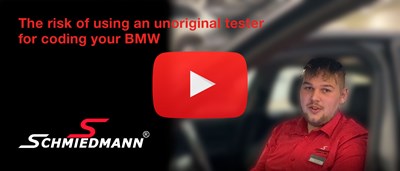 So you have a challenge with your BMW or MINI? Then Schmiedmann is the right partner for you.

Please contact our workshop in Odense for a no-obligation quote.

Schmiedmann Odense workshop:
E-mail: vaerksted.odense@schmiedmann.com  
Our customers have the coolest cars
Here is a selection of the many cars our customers send to us via Facebook and Instagram.
Show us your BMW or MINI with parts from Schmiedmann by tagging Schmiedmann on Instagram or Facebook.
Do you have a BMW with parts bought from Schmiedmann that you think is so cool it should be in a car magazine?
Then write to us at Instagram or Facebook and show us what you're driving.
Our reader, Danish Nicklas is well on his way to building a wicked MINI F56 John Cooper Works.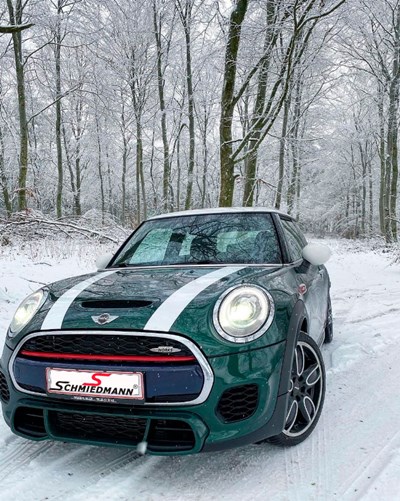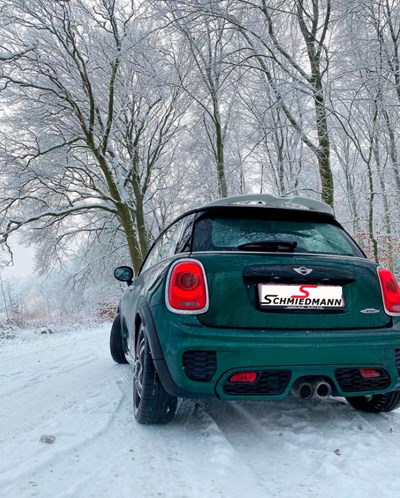 Vwe look forward to seeing the upgrades. The car is so far completely standard in exterior.
The first parts we have delivered from Schmiedmann are the iconic Union Jack rear lights, which are not mounted yet in the picture above.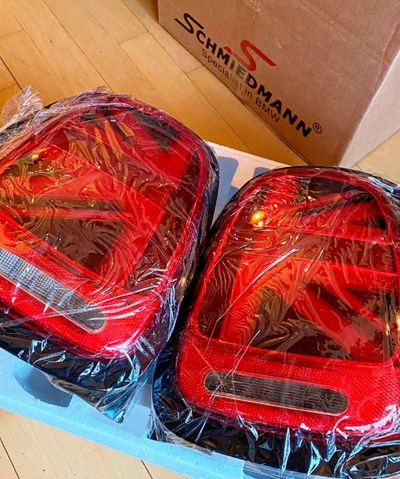 Find them here
Left side
Item number:63-21-7-435-133

Right side
Item number:63-21-7-435-134 

Nicklas plans to install the new lights in February, when a new intake will also be fitted.
The goal is a full 300HK!
It must be done by installing Eventuri intake, which is ordered and then:
MMR performance intake pipe
MMR silicone bending
MMR Intercooler
And finally, of course, a proper chip-tuning.

We love to see customers doing cool projects like what Niklas is doing here!
The photos above were taken by Nicklas himself, and shared here with his consent.
Want to follow Nicklas` cool rebuild?

Then find his Instagram profile here.

Do you have a cool project we need to hear about? BMW or MINI, preferably with parts bought from us, then share them with us on social media. Send it to us at Facebook andInstagram.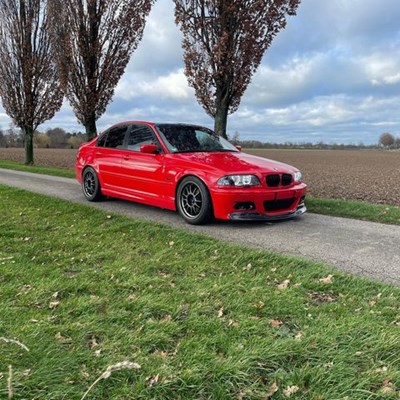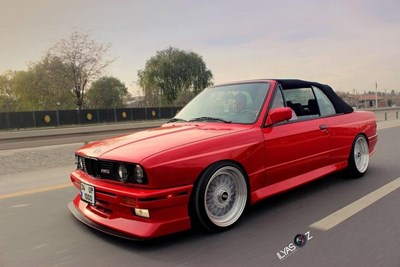 More cars for scrapping at Schmiedmann Nordborg
Our department in Nordborg has again received a new load of cars for scrapping.
All parts from the cars are sold.
Our skilled staff in Nordborg will be happy to help you find the part you need for your BMW or MINI.
Watch the videos and see if the part you need is for sale from one of the cars.
Keep an eye on the overview of cars for scrapping in Nordborg here.
Schmiedmann in Nordborg always has more than 400 cars for scrapping.
Spread the word
If you like reading our newsletter and would like to share Schmiedmann's offers, news and stories with your friends, family and acquaintances, they can sign up by going to www.schmiedmann.com/showroom/en/newsletter or by clicking on the image below.
Our newsletter is sent out weekly to more than 14,000 people who have already signed up.
Free shipping to customers in Denmark and EU countries
FOR DANISH CUSTOMERS
FREE SHIPPING ON ALL ORDERS OVER 350 DKK INCLUDING. MOMS!
Orders under 350,- DKK incl. VAT are shipped at our already low shipping price of only 39,- DKK incl. VAT!
Free shipping applies to both private customers and workshops.
NOTE: Free shipping does not apply to bulky items that need to be palletised or items that are over 1.2 metres long.
FAST DELIVERY: Order before 5pm and receive the item the following working day (gapplicable to goods in stock).
Buy parts for your BMW or MINI on our website and have it shipped free of charge:
SCHMIEDMANN ODENSE
Tel: +45 65 94 15 45
E-mail: odense@schmiedmann.com
SCHMIEDMANN NORDBORG
Tel: +45 74 49 11 80
E-mail: nordborg@schmiedmann.com
FOR CUSTOMERS IN EU* COUNTRIES
FREE SHIPPING ON ALL ORDERS ABOVE 167.50 € INCL. VAT!
For orders below 167.50 € the freight will still cost less and be faster than you expect - Try us out!
Free shipping is valid for both private customers and business customers in EU countries.
NB: Free shipping does not apply for bulky orders that needs to go on pallets or are more than 1.2 meters long.
* All EU countries exceptCzech Republic, Finland, Germany, Hungary and Sweden.
Buy parts for your BMW or MINI on our website and get it shipped free of charge:
SCHMIEDMANN ODENSE
Phone: +45 65 94 15 45
E-mail: odense@schmiedmann.com
SCHMIEDMANN NORDBORG
Phone: +45 74 49 11 80
E-mail: nordborg@schmiedmann.com
See Schmiedmann's previous newsletters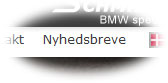 Remember you can always find previously issued newsletters on our website, filled with product news and exciting BMW projects.
Click here to see more
Schmiedmann departments
Schmiedmann Odense A/S
New parts / Workshop
Herluf Trolles Vej 15

5220 Odense SØ
Tel. +45 65 94 15 45
odense@schmiedmann.dk

Schmiedmann Nordborg A/S
Used / New parts / Workshop
Lyngmosevej 9
6430 Nordborg
Tel. +45 74 49 11 80
nordborg@schmiedmann.com

If you do not want to receive our newsletter, you can unsubscribe on the front page of our website

www.schmiedmann.dk
We reserve the right to sell out and change prices.