Problems viewing the newsletter? View online version here.
You can always get the latest news and offers,
when you follow us on these social media channels:
Measurement of chain length and chain change on BMW F11 530d at Schmiedmann Odense
It is a known problem on many BMW engines that the chain gets too long.
This can lead to engine breakdown and expensive repairs or complete engine replacement.
To avoid this, it is important to keep an eye on whether the chain length changes over time.
At Schmiedmann we have, with original BMW tools, the possibility to measure the chain, so you can sleep safe at night.
Our sharp workshop guide, Victor, takes you under the car and up close when we measure the chain.
Watch the video and find out how we measure chains at Schmiedmann.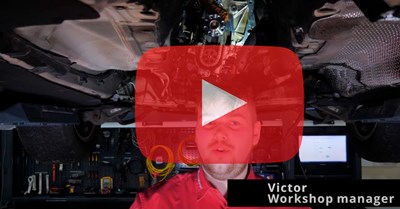 Are you worried about your chain being too long?
Then contact Schmiedmann's workshop, we have the lowest hourly rates in Denmark at our specialised BMW and MINI workshop and the lowest prices on spare parts.
See available workshop hours in Odense right here.
The owner of this BMW F34 GT 320d saves a lot of money!
A customer came by the workshop in Odense with his BMW F34 GT 320d from 2014, which worked very slowly in GPS navigation.
Our strong workshop team quickly located the fault in the head unit and contacted our friends at BimmerUpgrade.com for further help.
BimmerUpgrade received the unit and identified the fault as a faulty hard drive in the head unit. The hard drive was replaced and coded.
Now GPS navigation responds faster than new!
See in the video how we at Schmiedmann, together with BimmerUpgrade.com, saved this customer the cost of a brand new head unit for his BMW.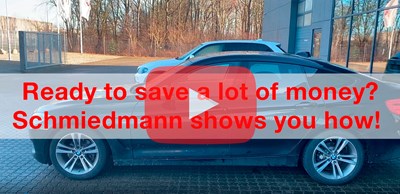 Schmiedmann Sweden fits crazy BC Forged rims on their BMW G82 M4
The crazy conversion of the BMW G82 M4 continues at Schmiedmann Sweden.
The rims that Schmiedmann Sweden chose are 19 inches large, and 10 inches wide in the front and 12 in the rear. This gives a tyre fitment of 305 width front and 375 rear.
With rims from BC Forged, you can get your rims exactly the way you want them, down to the millimetre.
Look at that! Probably the wildest BMW G82 M4 to date.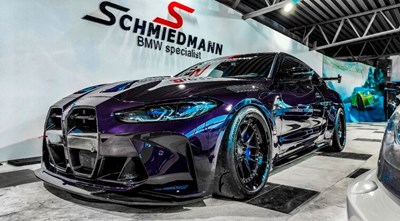 And remember: Until Wednesday 1 February, you save 5% on all BC Forged rims at Schmiedmann.
Visit BC Forged on their website www.bcforged-na.com
Schmiedmann can supply everything in the BC Forged MINI and BMW range. Contact us for a no obligation quote:
SCHMIEDMANN ODENSE
Tel:+45 65 94 15 45
E-mail:odense@schmiedmann.com
SCHMIEDMANN NORDBORG
Tel: +45 74 49 11 80
E-mail:nordborg@schmiedmann.com
Meet Swedish Adam and his wild BMW F31 330d Touring which is far from standard
 Adam, like you and us, is a BMW enthusiast to the bone and loves his BMW F31.
He bought it in Estoril blue withIndividual Opal White intake 2 years ago and have spent lots of hours optimizing it to the vehicle it is today.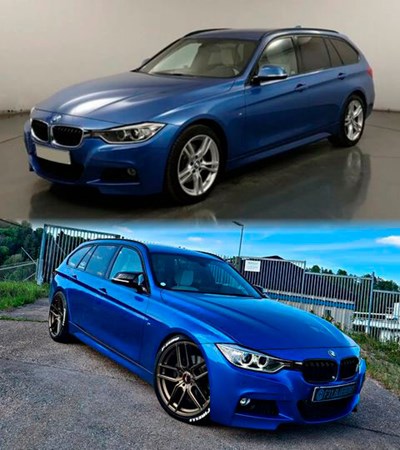 Adam says that since he bought the car in the autumn of 2020 complete standard, he has made all the modifications himself.
He continues, "For the first time, I feel like I want to keep this car for more than a few years."
Although this F31 Touring has undergone many modifications, it is used as a daily driver. Whatever the Swedish weather.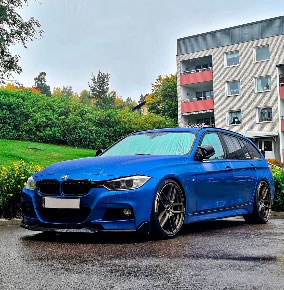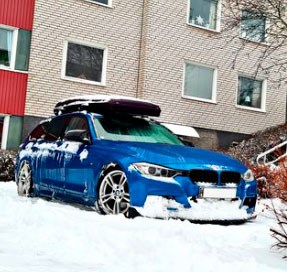 The modifications are many and include lowering springs from H&R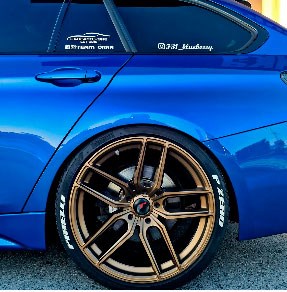 Find a lowering kit for your BMW or MINI here.
The summer wheels areJapan Racing (Jr25) 20" with Pirelli P-Zero tyres.
20x8.5 and32 - 235/35.
20x10 and40 - 275/30. 
The front splitter "Hockenheim" from Schmiedmann can be found here.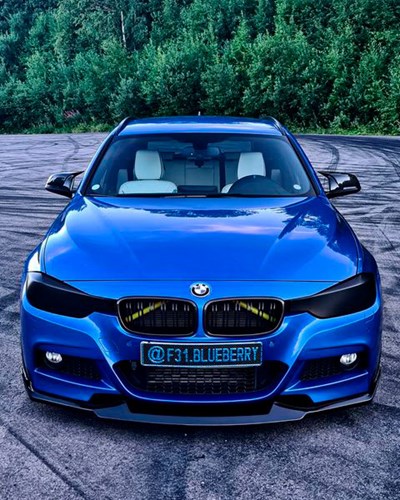 Other parts also include
M-Performance black rear lights.
M-Performance steering wheel with carbon trim and m3/m4 paddle shift, also carbon.
M-Style carbon side mirror caps.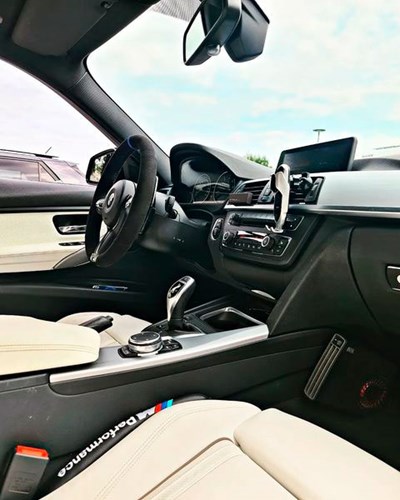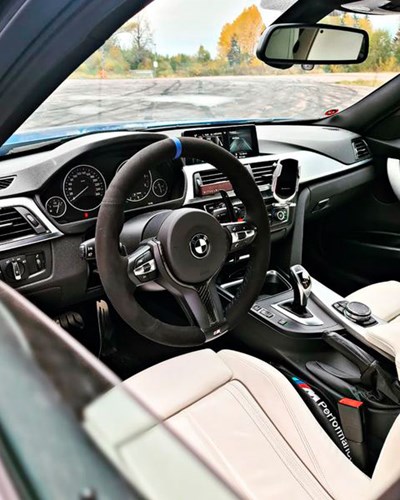 Also the Skiguard 830T roof box is something Adam has added after purchase. The ski box will soon be painted in Estoril blue to match the car perfectly.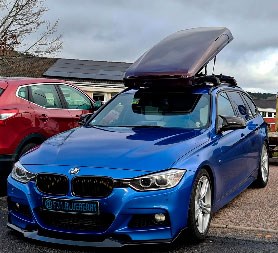 Adam has chosen to personalise the car 100% by foiling it with an ECG curve from a previous car accident which he barely survived.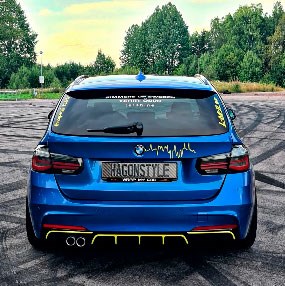 Like the true BMW enthusiast Adam is, his BMW F31 is not finished at all.
He has big plans to retrofit a whole range of parts:
M2 front spoiler
Complete M_Performance interior
More foiling of the car's exterior.
We thank Adam for sharing his car and his story with us.
You are welcome to follow Adam's further rebuild directly on his Instagram profile:
f31_blueberry
If you have a BMW F31 that you would like to style or tune, Schmiedmann is your choice.
You can find our huge range of tuning, styling and spare parts for the BMW F31 here. 
Do you have a cool car that you think deserves a place in our newsletter or an international car magazine?
Show us your BMW or MINI with parts from Schmiedmann by tagging Schmiedmann onInstagram orFacebook.
Do you have a BMW with parts bought from Schmiedmann that you think is so cool it should be in a car magazine?
Then write to us atInstagram orFacebook and show us what you're driving.
 Cars for scrapping at Schmiedmann Nordborg
Our department in Nordborg has again received a new load of cars for scrapping.
All parts from the cars are sold.
Our skilled staff in Nordborg will be happy to help you find the part you need for your BMW or MINI.
Watch the videos and see if the part you need is for sale from one of the cars.
Keep an eye on the overview of cars for scrapping in Nordborg here.
Schmiedmann in Nordborg always has more than 400 cars for scrapping.
Spread the word
If you like reading our newsletter and would like to share Schmiedmann's offers, news and stories with your friends, family and acquaintances, they can sign up by going to www.schmiedmann.com/showroom/en/newsletter or by clicking on the image below.
Our newsletter is sent out weekly to more than 14,000 people who have already signed up.
Free shipping to customers in Denmark and EU countries
FOR DANISH CUSTOMERS
FREE SHIPPING ON ALL ORDERS OVER 350 DKK INCLUDING. MOMS!
Orders under 350,- DKK incl. VAT are shipped at our already low shipping price of only 39,- DKK incl. VAT!
Free shipping applies to both private customers and workshops.
NOTE: Free shipping does not apply to bulky items that need to be palletised or items that are over 1.2 metres long.
FAST DELIVERY: Order before 5pm and receive the item the following working day (gapplicable to goods in stock).
Buy parts for your BMW or MINI on our website and have it shipped free of charge:
SCHMIEDMANN ODENSE
Tel: +45 65 94 15 45
E-mail: odense@schmiedmann.com
SCHMIEDMANN NORDBORG
Tel: +45 74 49 11 80
E-mail: nordborg@schmiedmann.com
FOR CUSTOMERS IN EU* COUNTRIES
FREE SHIPPING ON ALL ORDERS ABOVE 167.50 € INCL. VAT!
For orders below 167.50 € the freight will still cost less and be faster than you expect - Try us out!
Free shipping is valid for both private customers and business customers in EU countries.
NB: Free shipping does not apply for bulky orders that needs to go on pallets or are more than 1.2 meters long.
* All EU countries exceptCzech Republic, Finland, Germany, Hungary and Sweden.
Buy parts for your BMW or MINI on our website and get it shipped free of charge:
SCHMIEDMANN ODENSE
Phone: +45 65 94 15 45
E-mail: odense@schmiedmann.com
SCHMIEDMANN NORDBORG
Phone: +45 74 49 11 80
E-mail: nordborg@schmiedmann.com
See Schmiedmann's previous newsletters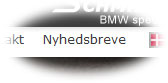 Remember you can always find previously issued newsletters on our website, filled with product news and exciting BMW projects.
Click here to see more
Schmiedmann departments
Schmiedmann Odense A/S
New parts / Workshop
Herluf Trolles Vej 15

5220 Odense SØ
Tel. +45 65 94 15 45
odense@schmiedmann.dk

Schmiedmann Nordborg A/S
Used / New parts / Workshop
Lyngmosevej 9
6430 Nordborg
Tel. +45 74 49 11 80
nordborg@schmiedmann.com

If you do not want to receive our newsletter, you can unsubscribe on the front page of our website

www.schmiedmann.dk
We reserve the right to sell out and change prices.