Problems viewing the newsletter? View online version here.
You can always get the latest news and offers,
when you follow us on these social media channels:
Schmiedmann Sweden continues the great mission to save a BMW M5 E34
Schmiedmann Sweden is restoring a BMW M5 E34 together with Bilsport and has just brought the body back into the workshop and reunited it with the thoroughly renovated engine.
The goal throughout is to stay as close to original as possible.
A long list of parts such as clutch and flywheel has been ordered and will be delivered soon.

The next step is brakes and suspension. Schmiedmann Sweden has chosen to install a BILSTEIN undercarriage which will be delivered soon.

Hear all the plans and how the project is going in the video atSchmiedmann Sweden's Youtube channel.
Watch the video and hear how the BMW M5 E34 project is progressing.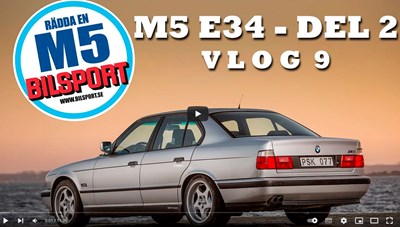 Schmiedmann Czech Republic upgrades BMW F34 GT
Our colleagues at Schmiedmann in the Czech Republic have upgraded a happy customer's BMW F34 GT with an illuminated, high-gloss black cover for the climate control panel, just like in the F30LCI, F31LCI, F32LCI and F34LCI.

The customer's BMW F34 GT also had black M-look side mirror caps installed.
Find the cover here
Item number: 64-11-9-358-940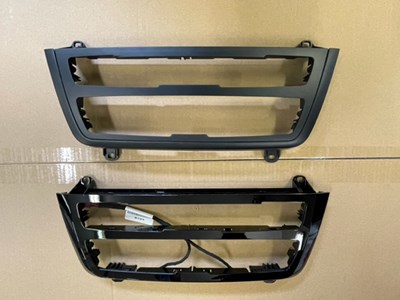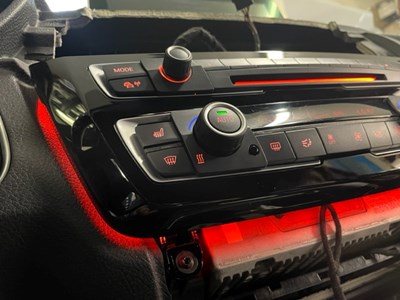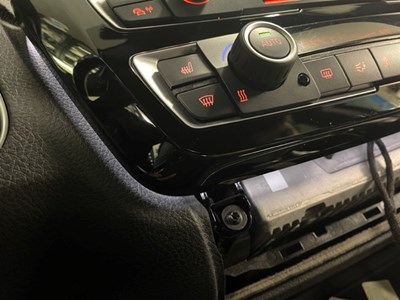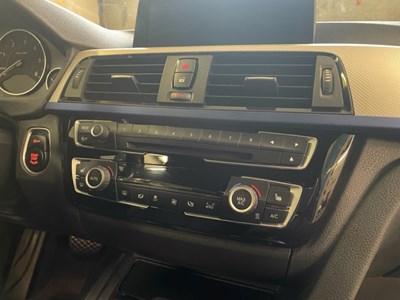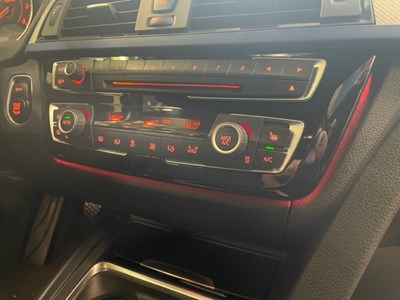 Find the cover here
Item number:64-11-9-358-940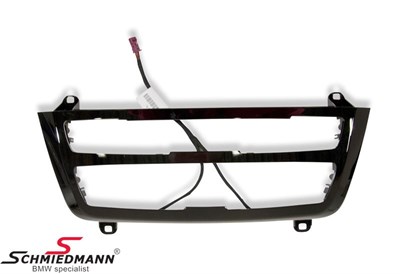 Find the mirror caps here
Item number:SPABSF2X3XGB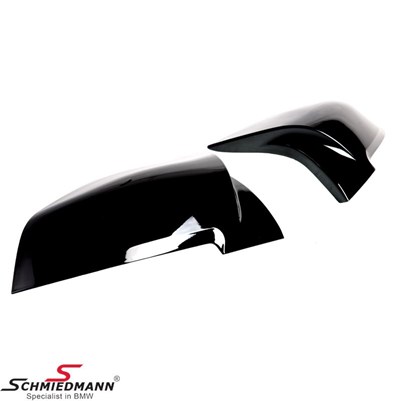 Find the mirror caps here
Item number: SPABSF2X3XGB


Meet German Tobias Rapp and his BMW E28 353I turbo M30B35-M106 with over 600HK
Tobias is, like you and us BMW enthusiast to the bone and loves hisBMW E28 353I M30B35-M106 turbo.
Tobias` car is a BMW E28 535i M30B35-M106 Turbo, which in 2023 will enter its fourth season with Tobias behind the wheel.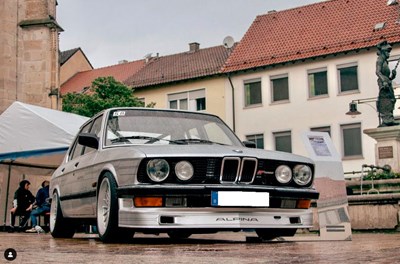 Tobias has installed aBorg Warner S364 64/80 onThe M30B35-M106 engine, which in the 2020 season produced 579Hp and 752Nm at 1.54 bar boost.
Since then, Tobias has continuously increased the charging pressure, thus increasing the car's power.
In 2021, it had 1.76bar boost pressure and produced 616hp and 819Nm.
At the end of the 2022 season, Tobias was running with 661Hp and 843Nm at 1.92 bar boost.
A monumental upgrade from the 211HK the engine had when it came from the factory.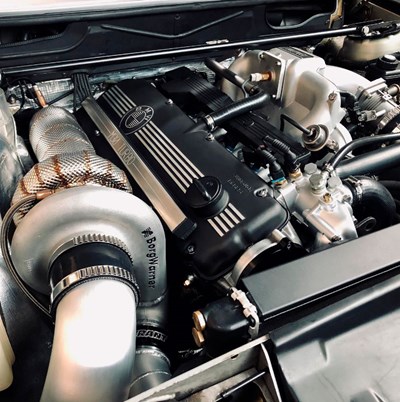 Tobias doesn't stop at engine upgrades. He has also installed IRP shifter in his classic BMW E28 to control the upgraded gearbox. Here Tobias has chosen to drive with aE34 M5 gearbox, to get a more durable set-up with the many horsepower.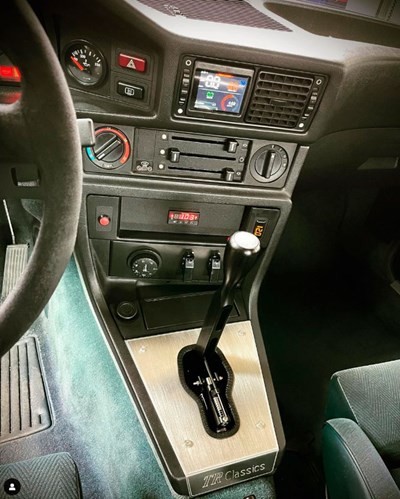 The rebuild also includes the brakes, which come from an E32 750i at the front and an E34 M5 at the rear.
With the exterior, Tobias has gone for the Alpina B7 Biturbo look.
Both the iconic Alpina stripes and the classic Alpina B10 Biturbo rims give the impression that here comes a connoisseur.
The rims areAlpina 8.5" & 9.5" x 17" B10 Biturbo.
Together with the sports undercarriagethey give a sporty and elegant look to Tobias` BMW E28 535i turboM30B35-M106.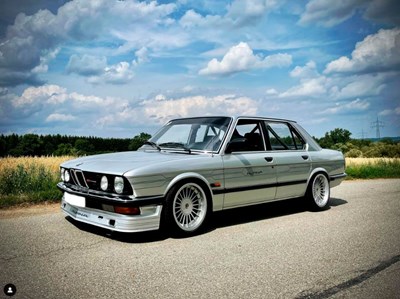 Not only the cool powertrain, the many technical updates, and the elegant styling make Tobias` car personal.
Tobias is a huge rally fan and has therefore had the German rally and motorsport legend Walter Röhrl sign the fuel filler flap.
A fun detail that just gives this car even more personality.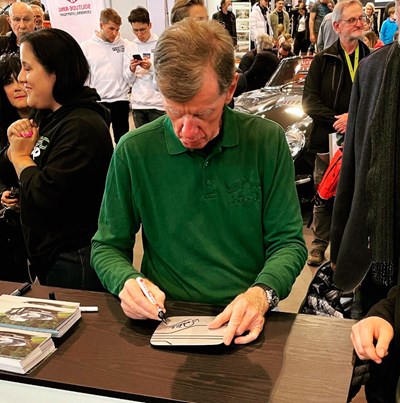 This is a real project car for Tobias, and that means it's never quite finished.
Follow the rebuild of the cool BMW E28 535i on Tobias` Instagram profile @e28_turbo535i
If you are looking for spare parts, parts for tuning or styling your BMW E28 or another BMW or MINI?
Then find them at Schmiedmann here.
Do you have a cool car that you think deserves a place in our newsletter or an international car magazine?
Show us your BMW or MINI with parts from Schmiedmann by tagging Schmiedmann onInstagram orFacebook.
Do you have a BMW with parts bought from Schmiedmann that you think is so cool it should be in a car magazine?
Then write to us atInstagram orFacebook and show us what you're driving.
 Cars for scrapping at Schmiedmann Nordborg
Our department in Nordborg has again received a new load of cars for scrapping.
All parts from the cars are sold.
Our skilled staff in Nordborg will be happy to help you find the part you need for your BMW or MINI.
Watch the videos and see if the part you need is for sale from one of the cars.
Keep an eye on the overview of cars for scrapping in Nordborg here.
Schmiedmann in Nordborg always has more than 400 cars for scrapping.
Spread the word
If you like reading our newsletter and would like to share Schmiedmann's offers, news and stories with your friends, family and acquaintances, they can sign up by going to www.schmiedmann.com/showroom/en/newsletter or by clicking on the image below.
Our newsletter is sent out weekly to more than 14,000 people who have already signed up.
Free shipping to customers in Denmark and EU countries
FOR DANISH CUSTOMERS
FREE SHIPPING ON ALL ORDERS OVER 350 DKK INCLUDING. MOMS!
Orders under 350,- DKK incl. VAT are shipped at our already low shipping price of only 39,- DKK incl. VAT!
Free shipping applies to both private customers and workshops.
NOTE: Free shipping does not apply to bulky items that need to be palletised or items that are over 1.2 metres long.
FAST DELIVERY: Order before 5pm and receive the item the following working day (gapplicable to goods in stock).
Buy parts for your BMW or MINI on our website and have it shipped free of charge:
SCHMIEDMANN ODENSE
Tel: +45 65 94 15 45
E-mail: odense@schmiedmann.com
SCHMIEDMANN NORDBORG
Tel: +45 74 49 11 80
E-mail: nordborg@schmiedmann.com
FOR CUSTOMERS IN EU* COUNTRIES
FREE SHIPPING ON ALL ORDERS ABOVE 167.50 € INCL. VAT!
For orders below 167.50 € the freight will still cost less and be faster than you expect - Try us out!
Free shipping is valid for both private customers and business customers in EU countries.
NB: Free shipping does not apply for bulky orders that needs to go on pallets or are more than 1.2 meters long.
* All EU countries exceptCzech Republic, Finland, Germany, Hungary and Sweden.
Buy parts for your BMW or MINI on our website and get it shipped free of charge:
SCHMIEDMANN ODENSE
Phone: +45 65 94 15 45
E-mail: odense@schmiedmann.com
SCHMIEDMANN NORDBORG
Phone: +45 74 49 11 80
E-mail: nordborg@schmiedmann.com
See Schmiedmann's previous newsletters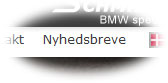 Remember you can always find previously issued newsletters on our website, filled with product news and exciting BMW projects.
Click here to see more
Schmiedmann departments
Schmiedmann Odense A/S
New parts / Workshop
Herluf Trolles Vej 15

5220 Odense SØ
Tel. +45 65 94 15 45
odense@schmiedmann.dk

Schmiedmann Nordborg A/S
Used / New parts / Workshop
Lyngmosevej 9
6430 Nordborg
Tel. +45 74 49 11 80
nordborg@schmiedmann.com

If you do not want to receive our newsletter, you can unsubscribe on the front page of our website

www.schmiedmann.dk
We reserve the right to sell out and change prices.