Problems viewing the newsletter? View online version here.
You can always get the latest news and offers,
when you follow us on these social media channels:
BMW Motorcycle Parts - now at Schmiedmann
We are proud to present the latest addition to the Schmiedmann product range:
Original BMW motorcycle parts
So share the good news with a motorcycle owner in your circle, we can certainly help them with nice, original BMW parts for their motorcycle.

Whether you buy motorcycle parts, parts for BMW or MINI, original or non-original, you get all the well-known Schmiedmann benefits.


Remember that we at Schmiedmann have a price guarantee and deliver free of charge in Denmark for orders over 350DKK and throughout the EU for orders over 167.50EUR incl. VAT.*
*Does not apply to bulky goods.
CLICK HERE TO SEE OUR RANGE OF BMW MOTORCYCLE PARTS
Visit us on our website www.schmiedmann.com
Schmiedmann can supply everything in the BMW & MINI range at the lowest prices with a price guarantee - please contact us for a no obligation quote:
SCHMIEDMANN ODENSE
Tel: +45 65 94 15 45
E-mail:odense@schmiedmann.com
SCHMIEDMANN NORTHBORG
Tel: +45 74 49 11 80
E-mail:nordborg@schmiedmann.com

It's time to get your Christmas presents in order
Not sure what the BMW or MINI enthusiast in your life wants?
Or should he or she just be allowed to choose?
Then a gift card to Schmiedmann is just the thing!
 


The gift card can be issued with exactly the value you want and can be used online and in our physical stores in Odense and Nordborg.

BUY THE GIFT CERTIFCATE HERE
Icy cold G20 330e from Finland
Our colleagues in Finland have sold and fitted Maxton Design front splitter, Maxton Design rear spoiler lip, kidneys and side mirror caps, all in gloss black on a, now even fancier, G20 330e.
Frosty look if you ask us.
 
Want to upgrade your G20?
Find the parts here:
Side mirror caps
Hedge spoiler lip
Front splitter
Kidneys
Vwe can supply EVERYTHING in Maxton design for your car. See more at www.maxtondesign.com, and please contact us for a quote if you find something that interests you.
OLED and Xenon look for F30 in Odense
One of our happy customers in Odense had bought a set of DEPO OE Xenon look headlights with angel-eyes rings and a set of OLED Design rear lights with dynamic blinkers.
In a conversation with our foreman, the customer says he's been considering putting LED bulbs in his fog lights. Of course, our foreman refers to the law in this area and recommends APPROVED LED fog lights.
These were of course bought here and fitted now that the fine F30 320i was past our workshop.
See the big change on the customer's F30 320i in the video.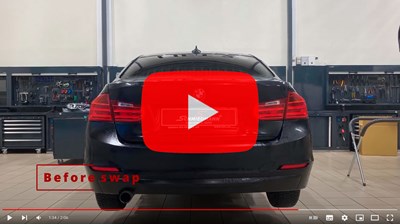 You can easily find lights like this here:
DEPO OE Xenon look w. Angel-eyes rings
OLED Design tail lights with dynamic flashing
Special delivery at Schmiedmann Odense

At Schmiedmann, as you know, we can provide you with everything, including original BMW spare parts. But this is one of the rarer...
A brand new, original BMW, V8 engine block in aluminum.

Watch it in the video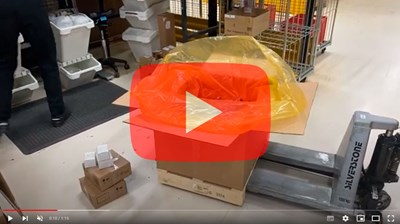 You will find an engine block including pistons as in the video here.
Item number11-11-2-351-268
Price:58.696,75 DKK incl. VAT
 
Spread the word
If you like reading our newsletter and would like to share Schmiedmann's offers, news and stories with your friends, family and acquaintances, they can sign up by going to www.schmiedmann.com/showroom/en/newsletter or by clicking on the image below.
Our newsletter is sent out weekly to more than 14,000 people who have already signed up.
Free shipping to customers in Denmark and EU countries
FOR DANISH CUSTOMERS
FREE SHIPPING ON ALL ORDERS OVER 350 DKK INCLUDING. MOMS!
Orders under 350,- DKK incl. VAT are shipped at our already low shipping price of only 39,- DKK incl. VAT!
Free shipping applies to both private customers and workshops.
NOTE: Free shipping does not apply to bulky items that need to be palletised or items that are over 1.2 metres long.
FAST DELIVERY: Order before 5pm and receive the item the following working day (gapplicable to goods in stock).
Buy parts for your BMW or MINI on our website and have it shipped free of charge:
SCHMIEDMANN ODENSE
Tel: +45 65 94 15 45
E-mail: odense@schmiedmann.com
SCHMIEDMANN NORTHBORG
Tel: +45 74 49 11 80
E-mail: nordborg@schmiedmann.com
FOR CUSTOMERS IN EU* COUNTRIES
FREE SHIPPING ON ALL ORDERS ABOVE 167.50 € INCL. VAT!
For orders below 167.50 € the freight will still cost less and be faster than you expect - Try us out!
Free shipping is valid for both private customers and business customers in EU countries.
NB: Free shipping does not apply for bulky orders that needs to go on pallets or are more than 1.2 meters long.
* All EU countries exceptCzech Republic, Finland, Germany, Hungary and Sweden.
Buy parts for your BMW or MINI on our website and get it shipped free of charge:
SCHMIEDMANN ODENSE
Phone: +45 65 94 15 45
E-mail: odense@schmiedmann.com
SCHMIEDMANN NORTHBORG
Phone: +45 74 49 11 80
E-mail: nordborg@schmiedmann.com
See Schmiedmann's previous newsletters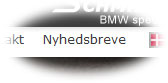 Remember you can always find previously issued newsletters on our website, filled with product news and exciting BMW projects.
Click here to see more
Schmiedmann departments
Schmiedmann Odense A/S
New parts / Workshop
Herluf Trolles Vej 15

5220 Odense SØ
Tel. +45 65 94 15 45
odense@schmiedmann.dk

Schmiedmann Nordborg A/S
Used / New parts / Workshop
Lyngmosevej 9
6430 Nordborg
Tel. +45 74 49 11 80
nordborg@schmiedmann.com

If you do not want to receive our newsletter, you can unsubscribe on the front page of our website

www.schmiedmann.dk
We reserve the right to sell out and change prices.