Problems viewing the newsletter? View online version here.
You can always get the latest news and offers,
when you follow us on these social media channels:
Protect your cabin with rubber mats
Winter is here and it calls for extra protection for your BMW.
Winter = rain, sleet and snow.
Rubber mats are a durable, simple solution over the winter or if you bring a lot of dirt into your car.
At Schmiedmann we offer a wide range of floor and rear mats in both textile and rubber.
Remember that until tomorrow, Tuesday 13.12.22 you save 11% on all Schmiedmann mats.
Click here to see our large selection of rubber mats
Visit us on our websitewww.schmiedmann.com
Schmiedmann can supply everything in the BMW & MINI range at the lowest prices with a price guarantee - please contact us for a no obligation quote:
SCHMIEDMANN ODENSE
Tel: +45 65 94 15 45
E-mail:odense@schmiedmann.com
SCHMIEDMANN NORTHBORG
Tel: +45 74 49 11 80
E-mail:nordborg@schmiedmann.com

New lights on BMW X5 E70
 The dark mornings and evenings at this time of year call for an upgrade of the lights on the cars.
Are your lights worn, or even cracked? Then it's time to change them now.
With non-original lights, you can save a lot of money without compromising on either appearance or performance.
It is a known challenge on X5 E70 and X6 E71 that the headlights crack and thus let moisture in. This can only be solved by replacing the lights.
We at Schmiedmann of course have a solution for about 1/2 the price of original lights.
Our own service car, the X5 E70, has been fitted with a brand new, unoriginal set of Sonar Xenon headlights with angel-eyes rings.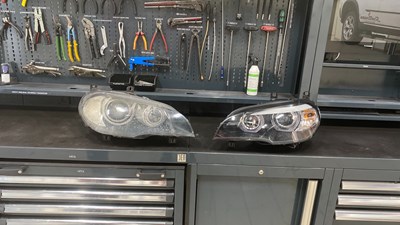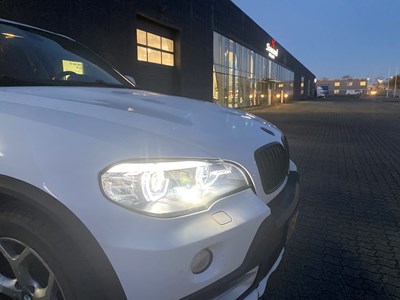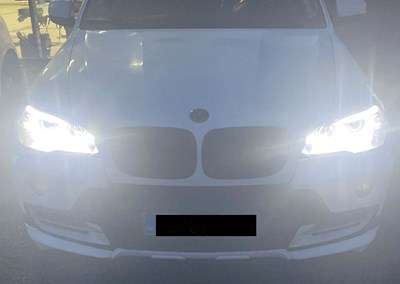 See in the video how cool the new lights are on our X5 E70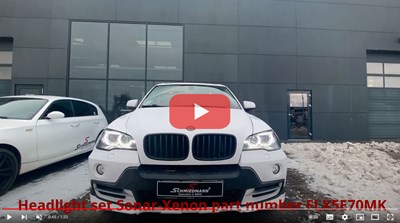 Click here and see the cool Xenon headlights for X5 E70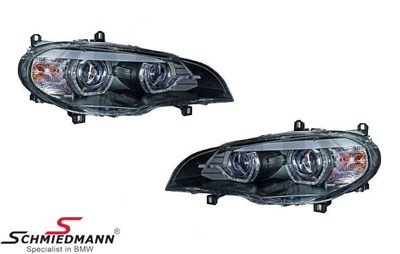 Item numberFLX5E70MK
Price6.781,51 DKK incl. VAT
 
It's time to get your Christmas presents in order
Not sure what the BMW or MINI enthusiast in your life wants?
Or should he or she just be allowed to choose?
Then a gift card to Schmiedmann is just the thing!
 


The gift card can be issued with exactly the value you want and can be used online and in our physical stores in Odense and Nordborg.

BUY THE GIFT VOUCHER HERE
 E92 M3 S65 V8have the bearings changed
In Odense we have one of our good customers M3 E92 on the lift, because it needs to change the bearings.
It is a known challenge on the S65 V8 that the bearings get worn at around 100.000km.
So whether you have an M3 E92 and want to drive it for a long time, or you have one with resale in mind, we recommend getting the bearings changed as we approach 100,000km. This way you're ensuring yourself or possibly the new owner of a ruined engine, an M3 where the pillow block bearings have been documented replaced also has a higher resale value.
We generally recommend replacing the care bearings at 70-100.000km on almost all M models, from E46 M3 S54 to M5 V10 S85, please contact us for advice and guidance and/or a no obligation quote with or without installation.
Best regards from your Schmiedmann Team


 
Read along next time to see more cool photos and the finished result.

If you're inspired to change the bearings on your E92, you'll find reinforced ACL race series bearings here. 
Original BMW motorcycle parts at Schmiedmann
At Schmiedmann we offer everything in original BMW motorcycle parts.
So if you want to ride your bike over the winter, or be ready for the 2023 season, Schmiedmann can help you with parts and advice.
Watch the video and see what's in the box.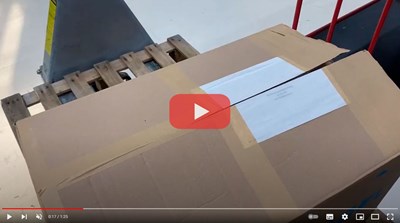 Find spark plugs with part number 12127719772 here
Find cover for pillion seat with part number71-60-7-705-788 here
Find windshield for F800 with part number 71-60-7-699-114 here

Please share the video and message with motorcycle and BMW enthusiasts in your network. The more you share, the cooler content we can make for you.
Schmiedmann Sweden sells wild M2 Competition
Schmiedmann Sweden sells this fantastic BMW M2 Competition and sends it out on the Swedish roads with a super happy new owner behind the wheel.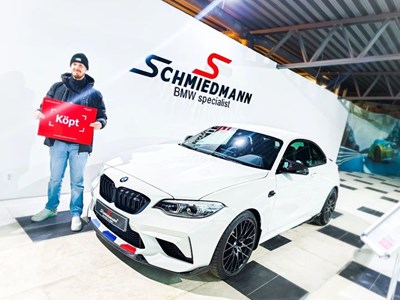 Do you also want to be spoiled with a BMW in a class of its own?
Then click here and see all the cars for sale from Schmiedmann Sweden.
5 stars for Schmiedmann in Odense
We are extremely happy and grateful that many of you rate our services 5 stars.
We do what we can to continue delivering 5-star service and prices to you, so as a BMW or MINI owner, you only have to shop in one place.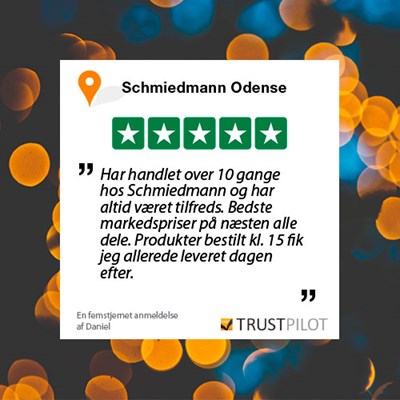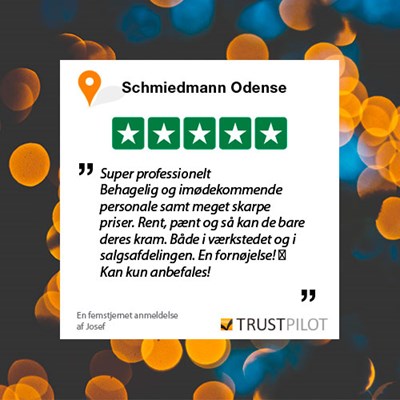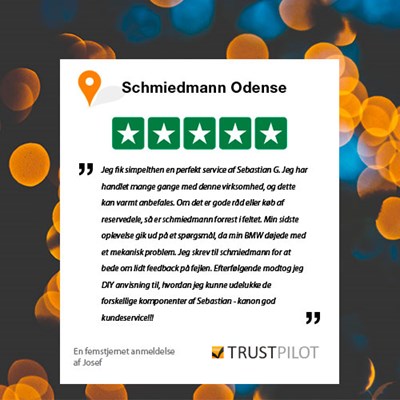 More cars for scrapping at Schmiedmann Nordborg
Our department in Nordborg has again received a new load of cars for scrapping.
All parts from the cars shown are sold.
Our skilled staff in Nordborg will be happy to help you find the part you need for your BMW or MINI.
Watch the videos and see if the part you need is for sale from one of the cars.
Find parts for BMW E36 Convertible here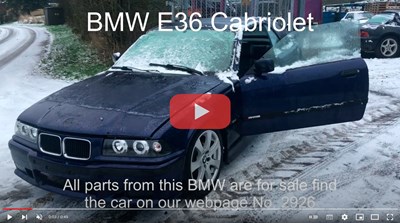 Find parts for BMW Z3 M43 Convertible here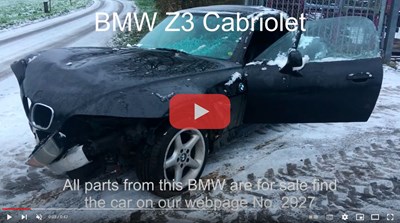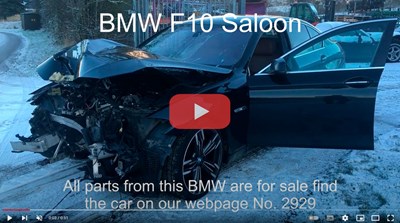 Find parts for the MINI R55 3 door here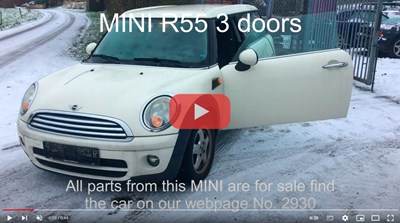 Spread the word
If you like reading our newsletter and would like to share Schmiedmann's offers, news and stories with your friends, family and acquaintances, they can sign up by going to www.schmiedmann.com/showroom/en/newsletter or by clicking on the image below.
Our newsletter is sent out weekly to more than 14,000 people who have already signed up.
Free shipping to customers in Denmark and EU countries
FOR DANISH CUSTOMERS
FREE SHIPPING ON ALL ORDERS OVER 350 DKK INCLUDING. MOMS!
Orders under 350,- DKK incl. VAT are shipped at our already low shipping price of only 39,- DKK incl. VAT!
Free shipping applies to both private customers and workshops.
NOTE: Free shipping does not apply to bulky items that need to be palletised or items that are over 1.2 metres long.
FAST DELIVERY: Order before 5pm and receive the item the following working day (gapplicable to goods in stock).
Buy parts for your BMW or MINI on our website and have it shipped free of charge:
SCHMIEDMANN ODENSE
Tel: +45 65 94 15 45
E-mail: odense@schmiedmann.com
SCHMIEDMANN NORTHBORG
Tel: +45 74 49 11 80
E-mail: nordborg@schmiedmann.com
FOR CUSTOMERS IN EU* COUNTRIES
FREE SHIPPING ON ALL ORDERS ABOVE 167.50 € INCL. VAT!
For orders below 167.50 € the freight will still cost less and be faster than you expect - Try us out!
Free shipping is valid for both private customers and business customers in EU countries.
NB: Free shipping does not apply for bulky orders that needs to go on pallets or are more than 1.2 meters long.
* All EU countries exceptCzech Republic, Finland, Germany, Hungary and Sweden.
Buy parts for your BMW or MINI on our website and get it shipped free of charge:
SCHMIEDMANN ODENSE
Phone: +45 65 94 15 45
E-mail: odense@schmiedmann.com
SCHMIEDMANN NORTHBORG
Phone: +45 74 49 11 80
E-mail: nordborg@schmiedmann.com
See Schmiedmann's previous newsletters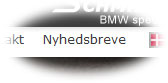 Remember you can always find previously issued newsletters on our website, filled with product news and exciting BMW projects.
Click here to see more
Schmiedmann departments
Schmiedmann Odense A/S
New parts / Workshop
Herluf Trolles Vej 15

5220 Odense SØ
Tel. +45 65 94 15 45
odense@schmiedmann.dk

Schmiedmann Nordborg A/S
Used / New parts / Workshop
Lyngmosevej 9
6430 Nordborg
Tel. +45 74 49 11 80
nordborg@schmiedmann.com

If you do not want to receive our newsletter, you can unsubscribe on the front page of our website

www.schmiedmann.dk
We reserve the right to sell out and change prices.